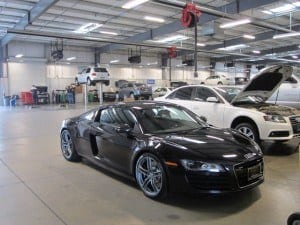 Every model of car has its own unique characteristics, and sometimes these characteristics reflect in the car, maintenance and service of the vehicle. Every car also has its own array of common problem areas, though these problems don't make the cars bad. Audi cars, and Audi service, is no different in this respect. Here are some Audi service tips to help you know what to look out for:
If your Audi is a turbo engine model, make sure to have the oil changed more often than regular (check your manual for specifics). Also, make sure to use full synthetic oil.
Make sure to have your front suspension inspected whenever having your regular Audi service done, as the bushings on the control arms on some models are known to wear easily.
Coolant leakage is known to be a problem on some Audi models. If leaking coolant, make sure to have the coolant reservoir checked, as well as the radiator. Sometimes a coolant flange, usually to the rear of the motor, will spring a leak.
A sharp clacking sound heard when cornering tightly may have been caused by a drying out axle joint. Replacing an axle assembly can be very expensive, so take care of this problem immediately and ask if it is possible to repair the axle rather than replace the entire assembly.
Many Audi models have problems with getting sufficient power to all electrical systems. This lack of power can affect many things, from flickering headlight or dashboard displays, to a trunk not closing or opening correctly, or even a sun-roof not responding.