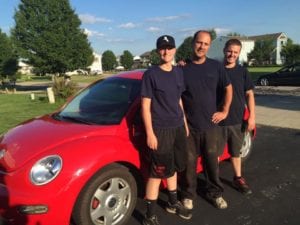 We've all heard horror stories from our neighbor or our sister or our cousin who was ripped off my an auto mechanic who told them they needed many more repairs than they actually did, or the work performed on their vehicle was sub-par, resulting in even more expensive repairs just a few weeks or months later. At Kevin's Car Repair, our professional mechanics are always honest, always fair. We'll never tell you that you need extra unnecessary auto repairs or charge you more than what is reasonable for the job.
When it comes to auto repair services, from oil changes and brake repair to wheel alignments and shocks & struts, we can do it all! You can always trust us to have your best interests in mind and to care for your Audi or Volkswagen vehicle like it was our own.
We recognize how vital your vehicle is to your everyday life, so when something goes wrong, we promise to get the job done quickly, efficiently, and affordably. Visit us today at Kevin's Car Repair in Westerville, Ohio for expert auto repair services. And don't hesitate to send your skeptical neighbor, sister, cousin, or anyone else over for a visit, too. We promise we can help them see that there are honest auto mechanics out there who really care!