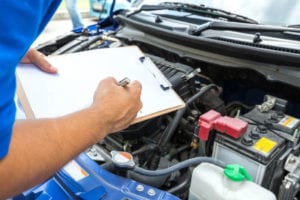 Back before cars used computers, it was recommended to take them in every year or so for a vehicle tune-up. During a tune-up, the car would have the spark plugs and air filters replaced and the technicians would check for low fluid levels and other signs of wear. Now cars are made with computers that do maintenance checks every time you drive. If any problems show up on the scan, the computer will alert the driver with the lights on the dashboard. This way, you can take your car in anytime a problem comes up.
That's not to say your car won't benefit from a vehicle tune-up now and again. We recommend bringing your car in for a tune up every two to three years if you haven't had to take your car in for any repairs in the meantime. Usually any problems we would fix in a tune-up should be addressed during your other repairs.
During a vehicle tune-up, we will check belts and hoses to make sure they aren't getting worn out. We'll replace the fuel filter to make sure contaminants are kept out of the engine. We'll change the air filter, which improves engine efficiency, and check the fluid levels that keep the engine from overheating. We'll also check for any other signs of wear or anything that might cause you trouble in the near future to save you a repeat visit to the shop.
You know when you come see us at Kevin's Car Repair & Body Shop LLC, you'll be getting honest and fair assessments and pricing of your vehicle. We aim to provide you with the best services possible for your car, and we are confident that you will be happy you brought us your car for a vehicle tune-up.