Our experienced Audi mechanics provide some of the best Audi Repair Services in the area.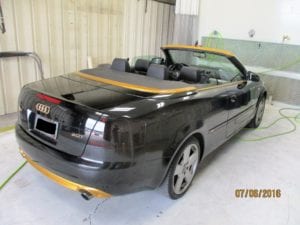 Audi Repair Services – We offer professional Audi repair services performed by some of the most experienced Audi mechanics in the area for our Worthington, Ohio customers because we're committed to making your Audi last longer and perform at its best.
We are proud to provide auto repair services for some of the best automobiles on the road today, and we work hard so that you can enjoy your Audi without paying inflated prices for repairs and services. Because we are honest, professional and courteous, we have built up a loyal client base of Audi owners in Worthington.
Our commitment is to make your Audi perform like new and last longer. We offer everything it needs from a major service to an oil change and tune-up. Let us fix your Audi and get it right the first time, on time. We care about your Audi as much as you do, and our quality Audi repair services show this!
We have invested in state-of-the art technology in the form of computerized diagnostic equipment specially designed for Audi vehicles. You are guaranteed excellent results and 100 percent satisfaction. Our trained & experienced Audi mechanics have a wealth of experience working on Audis, and they know these cars inside and out.
Our Audi repair services include:
Engine repair or replacement

Clutches and transmissions

Factory recommended maintenance

Service and repair of cooling systems

Oil change and tune-up

Tire mounting, balancing and alignment

Brake system repairs

AC repairs and service

Computerized diagnostics and repairs

Shocks and struts

Exhausts, batteries, timing belts
What's more, when you bring your Audi to us for preventative maintenance or repairs, you'll pay a lot less than having the work done at a dealership. We do the same work, using the same machines, but at affordable prices – hence our motto: Always Honest, Always Fair.
The key to maximizing your Audi's performance and enhancing its future resale value is regular servicing. We promise that you and your Audi will receive the very highest level of professional care with all of our reliable Audi repair services.
---
At Kevin's Car Repair & Body Shop LLC, we offer Audi repair services to those in Westerville, Columbus, Worthington, and Mid-Ohio.