We offer affordable brake repair and inspection services.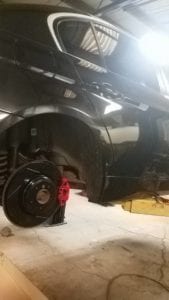 At Kevin's Car Repair & Body Shop LLC, we can diagnose and fix all brake problems and get you back on the road in Worthington, Ohio quickly and safely. Are your brakes making squealing or clunking noises? When you step on the brake pedal, does it sink too deeply into the floor, or is it too firm? Are the brakes vibrating, grabbing, pulling, or dragging? Our amazing break repair services can fix all these brake problems and more.
When it comes to brake repair services, ours are the best in the business! Trust our talented technicians to fix your brakes in no time and leave you with a vehicle equipped with properly working brakes. Know that turning to us for brake repair services isn't something you should put off – faulty brakes could put you and other people at risk when you're out on the road. Luckily, when you want to get your brakes fixed, all it takes is dropping your car off with us at our shop and leaving the rest to us!
When you bring your car into us for brake repair services, we'll provide honest, fair service. If you don't have to replace your entire braking system, we won't tell you that you need to! In fact, we'll go over the full picture about what's going on with your brakes and provide multiple options for fixing them up. After you give us the "thumbs up" to fix your brakes, we'll get started on the repair work.
One of our goals is to get your car back to you as quickly as possible, without sacrificing the quality of our workmanship, so you can be back behind the wheel of your car again in no time. The best part is that you'll have properly functioning brakes once more!
When it comes to brake repair services, you won't regret bringing your car to our shop. Give us a call at Kevin's Car Repair & Body Shop LLC today to find out more!
Common Questions About Brake Service and Repair
At Kevin's Car Repair & Body Shop LLC, we're here to help you keep your car's brakes in good shape to protect your safety. Here are some of the most common questions we get asked related to our brake service and repair services.
What are some signs my brakes need service?
Bring your car into us for brake services if your car's brake warning light comes on. You should also bring your car in if your brakes squeal or grind to a stop or if anything feels off with this part of your car.
How long do car brakes last?
Most car brakes will last anywhere from 25,000 to 65,000 miles. Bring your car into our shop regularly to have your brakes checked, so you can keep your brakes in good shape and know when you need to invest in a replacement.
Why should I bring my car to you for brake repair?
We're honest and reliable, and we know about brakes. You can rest easy knowing we'll do a good job when we work on your car's brakes.
Do you change brake pads?
Yes! When your car needs new brake pads, bring your vehicle into our shop, and we'll replace them in no time.
How can I make an appointment?
Making an appointment with us is easy! Just give us a call or fill out the contact form on our website. We'll make sure your appointment time is convenient and that it works with your schedule.