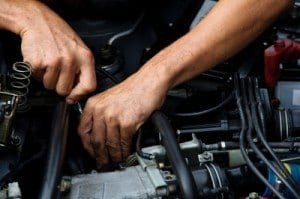 Whether it is for an oil change or transmission repair, you occasionally have to take your vehicle into a car repair shop. Finding the right car repair shop can be difficult because there are so many out there. There are even some car repair shops that are not trustworthy. Here are 3 characteristics of good car repair shops that you should look out for:
Cleanliness – Car repair shops can't be squeaky clean all the time because of all the oil and other messy substances that mechanics work with frequently, but they should never be a complete mess. If you walk into a car shop that is messy and has oil and dirt all over the floor, or the waiting area looks like it hasn't been cleaned or tidied up in weeks, it is not a good sign. The person who owns the repair shop likely does not care much about their reputation.
Experienced Mechanics – Every reputable car repair shop should hire experienced mechanics. These mechanics should be trained in fixing cars and know what they are doing. If a repair shop hires inexperienced mechanics, your car might not get fixed the right way. When you walk into a repair shop, you shouldn't be afraid to ask to see a mechanic's certification papers.
Modern Tools – Car repair shops should also have all of the modern tools so that the mechanics can fix your car the right way.
If the car repair shop you have chosen shows all of these signs, you have picked the right one!
Looking for a car repair shop in Westerville OH? Give us a call at Kevin's Car Repair LLC. Our mechanics have years of experience and can handle any repair job, big or small. At Kevin's Car Repair, we are always honest, always fair!