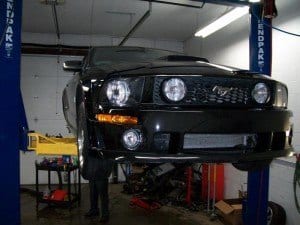 Shocks & struts are quite possibly the most misunderstood of all your car's essential systems. Most people don't realize that the job of shocks & struts is to keep your tires in contact with the road! Your driving comfort, handling, stability, brakes and steering all rely on them to function at optimal level. Thoroughly inspecting your entire suspension system and replacing worn or inadequate shocks & struts will help you maintain good control and safety.
While the best way of testing shocks & struts is at a workshop, there are some distinctive symptoms of excessive wear and tear which you can keep an eye out for. They may need repair or replacement, depending on the type of shock absorber fitted to your car. If you experience any of the signs below, contact us at Kevin's Car Repair:
Swerving & Nose-Diving: If the vehicle hood dips when you slow down or brake or the car swerves, there may be a shock absorber problem.
Stopping: Worn shocks & struts can add as much as 20% to your stopping distance. This problem requires immediate attention because it could be fatal.
Side Slide: If your vehicle veers in wind, even if the wind isn't very strong, there may be problems with the shocks & struts.
Uneven Tire Wear: If your tires are wearing unevenly, especially if there are bald patches, odds are that it's the shocks & struts.
Bad Vibes: Steering wheel vibration is also linked to faulty shock & struts.
Shake, Rattle and Roll: Does your vehicle 'rock and roll' over railway tracks, bumps or uneven surfaces? Is it not able to hug the bends? Then it's time to get those shocks & struts checked.
Need service on your shocks & struts in Westerville OH? Give us a call at Kevin's Car Repair LLC. Our mechanics have years of experience and can handle any repair job, big or small. At Kevin's Car Repair, we are always honest, always fair!