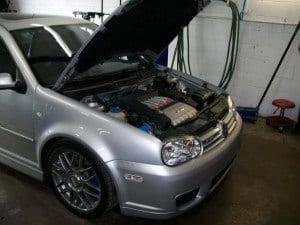 When you purchased your Volkswagen, you did so because it had a good reputation. You knew that Volkswagen produces reliable cars for a fair price. Volkswagen automobiles are designed more for functionality, so they get the job done without the extra frills. Of course, if you had wanted a slightly fancier model, you could have purchased the Passat. You heard that the only downside to owning a Volkswagen seems to be when it comes to repair time—but if you find the right Volkswagen mechanic, this becomes a non-issue.
Volkswagen repair can be tricky because the vehicle is manufactured differently from other cars on the market. You need a Volkswagen mechanic who is trained to accurately diagnose and fix whatever problems appear. This is especially important when it comes to the expense of parts, so you need someone who can fix the problem efficiently—saving you extra labor costs. Because Volkswagen vehicles are so reliable, your mechanic needs to know how to repair Volkswagen autos that are decades old and still functioning. An experienced Volkswagen mechanic will have the knowledge and the tools to work on a variety of Volkswagen vehicles.
At Kevin's Car Repair LLC, our Volkswagen mechanics meet the standards outlined above and are truly treasures when your Volkswagen needs some TLC. We have the experience and knowledge that allow us to identify the most common types of problems and the symptoms they manifest, so we are able to quickly and correctly diagnose problems when they arise. We know that you care about your Volkswagen, and we are committed to safeguarding your treasure. So if you find that your Volkswagen is in need of some TLC, contact us today!