Audi Mechanics that You Can Count On Serving the Worthington, Ohio Area
Audi Mechanics – At Kevin's Car Repair & Body Shop LLC, we employ specialized Audi mechanics who can perform any kind of repair job on your Audi vehicle, from a wheel alignment or oil change to shocks & struts, brake repair, car air conditioning repair, and much more.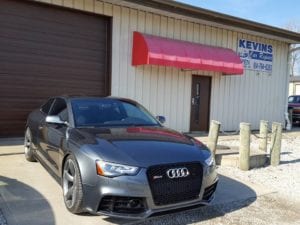 Why should you seek out Audi mechanics when your car needs repair or service?
A mechanic who specializes in your car's make and model can make a huge difference. There are many things that can uniquely go wrong with an Audi, and the resulting repairs should be treated differently than if the car were a Volkswagen, Toyota, Ford, or any other car brand.
Audi vehicles offer luxury and style in a variety of models, including coupes, convertibles, and crossovers. We understand that Audi owners in the Worthington, Ohio area value reliability and safety with a touch of class, so that's what our Audi mechanics bring to you and your vehicle, along with excellent customer service. We know how much your car means to you, and we know you depend on it to get from point A to point B dozens of times a day. You can count on our Audi mechanics to make sure it's always running smoothly.
At Kevin's Car Repair & Body Shop LLC, our Audi mechanics understand and can quickly diagnose the most common problems that could go wrong with your Audi vehicle, from engine misfires and broken intake ducting to failure of the diverter valve, the fuel pump, or the positive crankcase ventilation (PCV). We can repair your Audi vehicle quickly and efficiently and at an affordable price.
Whether you own an Audi A4, Q5, S6, R8, or anything in between, we've got all your Audi repair and service needs covered. Please contact us today for more information about our Audi mechanics.
---
At Kevin's Car Repair & Body Shop LLC, our Audi mechanics are proud to serve those in Westerville, Columbus, Worthington, and Mid-Ohio.