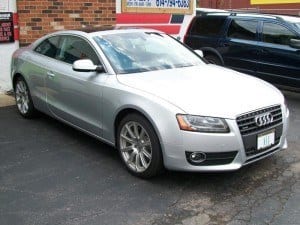 At Kevin's Car Repair, we offer professional Audi repair and mechanical services, as well as scheduled regular maintenance to owners of European and import cars, such as Audi and Volkswagen.
One visit to us is all it takes for any Audi owner to appreciate the superior service you'll get at our Audi repair shop. With affordable pricing and friendly, skilled staff, we can match the quality of any dealership. Even the fussiest Audi owner will be impressed with our 5-star customer service, knowledgeable staff and highly trained mechanics.
Everyone here at Kevin's Car Repair is committed to your full and complete satisfaction, which is one of the main reasons why more people are choosing us for the best Audi repairs in the Columbus area of Ohio. Whether your car is 10 years old or brand new, our Audi experts have the latest technology and tools to handle everything from scheduled maintenance to engine repair.
Our mechanics can perform all major Audi repair work, as well as smaller jobs like brake pad replacement, brake repair, batteries, alternators, rotors, radiators, starters, cooling and heating systems, suspension systems, front-end service, electrical repair, and more.
Our Audi scheduled maintenance services include fluid flushes, brake service, shocks and struts, fuel injection cleaning, switches, sensors, timing belts or chains, filters, water pumps, oil changes, spark plugs, tune-ups, fuel pumps, clutch replacements, multipoint inspections, and more. We have all the tools, lifts and equipment to handle any job.