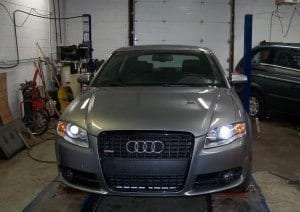 Audi. The name itself is associated with luxury and prestige. If you want to get noticed, you choose Audi. In 2012, it was ranked as one of the top 5 luxury cars by Motor Trend. Audis are loaded with only the best components, both under the hood and inside the vehicle. Let's face it, your Audi is exceptional and you take exceptional care of it. Which is why, when it comes time for a repair, your top-of-the-line car needs top-of-the-line repairmen.
When you need an Audi repair, you want someone who understands your car. You want someone with the knowledge and the skill set to properly diagnose and fix whatever is ailing your treasured auto, not someone who is guessing and will leave you with a bigger problem than you started with. You want an Audi repair that will leave your car functioning as though it is brand new. You want to extend the life of your car for a long time. You want your luxury car to be treated with care. That is why you need us.
At Kevin's Car Repair LLC, we provide many Audi repair services. We have contemporary equipment specifically designed for Audi cars. We can do simple routine maintenance like oil changes, and we are also experienced in more complex repairs, such as engine repair or replacement. Our mechanics have an abundance of experience in Audi repair. Let us help you get back to enjoying your Audi in no time!