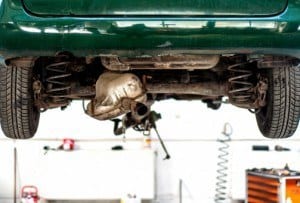 Does it feel like you're driving on a dirt road every time you take a spin in your car? Are you bouncing so much that your seatbelt is having a hard time doing its job? If you are tired of the daily vibrating massage in your car, getting new shocks and struts may be the answer.
Shocks and struts both serve the same purpose. They are designed to absorb the bounce of your car when you go over bumps, so you get a smooth ride when going over rough terrain. They also help to lower the amount of stress placed on your car's frame and keep your wheels in alignment. Essentially, they are made to give you a luxurious ride, rather than feeling that you are out in a farmer's field every time you go over a rough patch of road. Although if you really are in a farmer's field, there's only so much bounce they can absorb.
The difference between shocks and struts is how they are mounted on your vehicle. Some vehicles will have both shocks and struts, and some will have only shocks. Shocks are easier to replace, so it is also cheaper to replace them. Struts require more labor, and thus are more costly to replace.
Beyond the bouncing, there are other signs that you may need new shocks and struts. Some of these include rocking back and forth as you travel down the road, bottoming out, and drifting when braking.
At Kevin's Car Repair LLC, we know how to determine whether your car needs new shocks and struts. If you find yourself uncomfortably bouncing down the road, bounce on over to Kevin's, and we'll gladly fix the problem to get you gliding smoothly on your way!