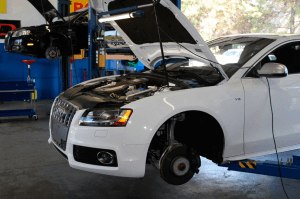 The cost of maintaining a high-performance automobile like an Audi will vary significantly based on the age, condition and model. Whether you drive a 4.2 TDI Diesel Q7 or a supercharged 3.0L DOHC, staying up to date with Audi service and maintenance can save you thousands of dollars over the long haul. Regardless of the engine type, the model, or the year, it's vital to regularly maintain your Audi.
Generally, you should schedule Audi service every 10,000 miles, or once a year. Although brakes might not be specifically tied to regular servicing, they are a crucial part of maintenance. Take note, however, that the right brake rotors and pads should be used for your specific model because not all brakes are created equal. The old saying 'you get what you pay for' applies.
Regarding oil changes, we can't emphasize enough how important it is to use the proper oil for your Audi. Remember, synthetic oil must be used for all new engines, including turbo-charged engines. Mineral-based oils, which are used in older Audis, should not be replaced with synthetics.
If you drive a supercharged or turbo-charged model, we suggest you have the oil changed every 5,000 miles because these engines produce extreme heat. A late model non-turbo charged engine should have its oil changed every 7,500 miles, and older models should have an oil change every 5,000 miles.
For a safe, smooth ride, visit us at Kevin's Car Repair in Westerville, OH. We specialize in Volkswagen & Audi service and repairs.