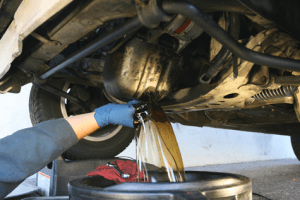 Regular auto oil changes are not just a good idea; they are a crucial part of your vehicle's maintenance. The purpose is to keep all the internal components cool and lubricated, and in so doing, preventing them from grinding against one another, causing damage and wear.
Fortunately, an oil change is a relatively inexpensive and simple procedure for a trained mechanic. Depending on what type of vehicle you have, you should have the oil changed at an auto shop every 3,000 to 5,000 miles. But what do you say when the mechanic asks what kind of oil you want? Obviously you want to use what's recommended in your owner's manual.
But what brand? When deciding what to use, ask about the 'donut' and 'starburst' seals from the API (American Petroleum Institute). These conform to API service standards and will help steer you away from inferior-quality products.
Currently, the API's highest rating for auto oil is SM, which is formulated for all gas engines being used. Since 2004, it has been the standard. For diesel oil changes, the top rating is CI-4. According to the API, SM oils provide better oxidation resistance, better wear protection, better deposit protection, and improved low-temperature performance.
Note: Older types – SA through to SH – are now considered obsolete, but they are still on the market. Therefore, many people performing a DIY oil change might purchase these oils inadvertently.